Passing the Torch in Our Family Business our story
By John Osborn, Owner and President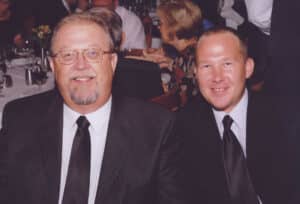 Our story starts In 1993, Gary Osborn founded our family business in a humble space of the basement around the back of an office building with no windows and a gravel parking lot on S. Campbell in Springfield, Missouri. In our 25 years of business we have seen a lot of changes in our company and the insurance industry. Some of the things that haven't changed is our family values, willingness to help anyone that crosses our door and devotion to our business. We pride ourselves in the opportunity that we have had to guide agents and agency owners to help propel them to higher levels of success. We've striven to connect with those willing to work hard and put in the time to grow and manage their business. I am happy to report that within the evolution of our agency, we are more prepared to serve you than at any time in my career. our story
I started here in 2001, we were a small agency that had around 50 agents working through our office. I really enjoyed helping people and felt that my unique customer service perspective that I learned while in fine dining was a good fit to put clients at ease and help agents get what they need. I was our receptionist and sat at a desk in the front of our office. At first I had a type writer and so trust that I was excited when we sprung for a computer along with newly installed high speed internet. I spent much of my time learning about operating systems, databases, email marketing, and networking while answering the phones and taking care of the needs of the office. I decided to get my health and life license in August of 2002 as I continued to go to college. I can't really say I ever looked back after I started to sell insurance. It lit a fire in me that still burns bright to this day and has been one of the best decisions I've ever made. rfs
My Dad allowed the opportunity for me to grow in ways both personally and professionally that probably wouldn't have been afforded elsewhere. He connected me with some great partners and mentors that cascaded into working with St. John's, Dan Igou & Associates, NAIFA and many others. I focused on writing group and individual health, life, disability, ltc, etc. It was a great time of learning and it only lasted a short time until legislation passed in 2003 opened us up to the opportunity to work with agents promoting Medicare Part D and Medicare Advantage plans. During that time we started a path of growth for our agency that required me to give up personal sales and focus solely on serving agents. Over the years, we have expanded our services to include licensed agents in our office, along with administration devoted to help you manage and grow your business.
We now service over 300 agents and continue to take a lead in forging the path for our agents, the industry and the community. After these 25 years of leading Osborn Insurance Group and 40+ years of writing business, Gary is passing the torch. I am thrilled to take on this new role and continue growing our agency and the resources to the agents we support. Within the last year we've added some key people to our business to support you in contracting, commissions, events, website and agent support. Our company is growing both internally and externally. I am confident that as we move towards this new direction that we will be in a much better position to support you and help you grow your business.
We appreciate the wonderful opportunity to be in service to you, the community and to the insurance companies that we represent. We look forward to continuing our legacy as well as having my best friend, business partner and Dad next to me in our offices for many years to come. Not much will change except some paperwork and a bit more responsibility on my end. I believe I'm up for the task and if there is anything that you need on a personal or professional level then please don't hesitate to reach out to me. I truly love what I do, the people I work with and being of service to you. Without your trust and friendship, we wouldn't be able to exist as a business and we are committed to you.