2021 certification kicks off July 1

We're launching our annual Individual Medicare producer certification process earlier than ever before. On July 1, visit AetnaMedicareProducerCertification.com to get started.
Our certification process includes AHIP and only costs $125– that's a $50 savings off of the AHIP retail price. Save the date and plan to certify with us.
Certify for 2021 Aetna MA/MAPD and SilverScript PDP in the same portal

New for 2021, you'll get to certify for both Aetna MA/MAPD and SilverScript PDP in the same portal. Last year agents had to log in to two separate portals. This year we've made it easier. Just go to AetnaMedicareProducerCertification.com on July 1 to access both Aetna MA/MAPD and SilverScript PDP certification.
For those who don't plan to sell Medicare Advantage, you will be able to certify for SilverScript PDP only through the SilverScript portal, as in past years.
COVID-19: 1,000 testing locations available across the country

In May, CVS Health continued to expand access to COVID-19 testing, establishing testing sites at up to 1,000 CVS Pharmacy locations across the country. To get tested, individuals must register in advance at CVS.com to schedule an appointment. Once registered, they'll be provided with an appointment window for that same day or up to two days out. Click here to find a testing location and register.
NEW: Need a PDF copy of a 2020 enrollment kit? You can download it 
Follow these steps to download a 2020 enrollment kit for your market:
Log in to the enrollment kit ordering site through Producer World.

Search for the kit you want to download using the order wizard filter.

Click on the kit details.

Click on "Show full size image."

Click download in the upper right hand side of the new tab that pops up. If a new tab doesn't populate, you may need to turn off your pop up blocker. 
Save the PDF file to your computer.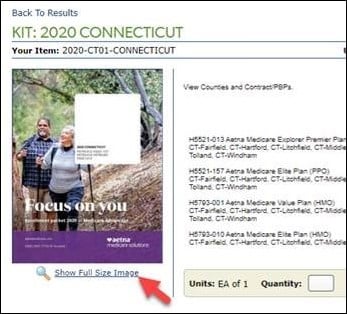 Coming soon: The enrollment kit ordering site is getting a fresh, new look
In late July, we're launching a new enrollment kit ordering site and making it easier for you to order 2020 enrollment kits. Stay tuned for more details.