December 24
–
December 25
CST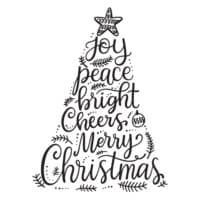 Christmas is an annual holiday that is celebrated on December 25th in many countries around the world. It is primarily recognized as a Christian religious holiday commemorating the birth of Jesus Christ, who is considered the central figure of Christianity.
The word "Christmas" is derived from the Old English phrase "Cristes maesse," which means "Christ's Mass." It has been observed for centuries and is deeply rooted in both religious and secular traditions.
For Christians, Christmas holds significant religious importance as it marks the birth of Jesus Christ, whom they believe to be the Son of God and the savior of humanity. The biblical accounts of Jesus' birth can be found in the New Testament of the Bible, specifically in the Gospels of Matthew and Luke.
Christmas celebrations vary across different cultures and regions, but common traditions often include attending church services, exchanging gifts, decorating Christmas trees, and gathering with family and loved ones. Many people also engage in charitable activities, such as donating to those in need, during the Christmas season.
Over time, Christmas has also acquired some secular customs and symbols that are widely recognized. These include Santa Claus (also known as Father Christmas or Saint Nicholas), who is believed to bring gifts to children on Christmas Eve, and the exchange of presents, often placed under a decorated Christmas tree. Other secular elements of Christmas include festive decorations, such as lights, ornaments, wreaths, and the playing of Christmas music.
While Christmas has its roots in Christianity, it has become a cultural phenomenon celebrated by people of various religious backgrounds worldwide. It is a time of joy, love, and generosity, emphasizing the spirit of giving and spreading goodwill to others.