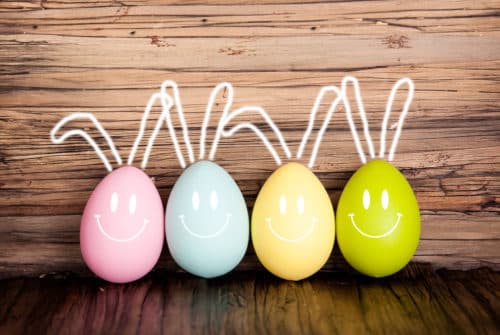 Many Christians celebrate Jesus Christ's resurrection on Easter Sunday. The Easter date depends on the ecclesiastical approximation of the March equinox. 
In Pagan times, many groups of people organized spring festivals. Many of these celebrated the re-birth of nature, the return the land to fertility and the birth of many young animals. These are the origins of the Easter eggs that we still hunt for and eat.
In Christian times, the spring began to be associated with Jesus Christ's crucifixion and resurrection. The crucifixion is remembered on Good Friday and the resurrection is remembered on Easter Sunday. The idea of the resurrection joined with the ideas of re-birth in Pagan beliefs.
Easter Sunday is not a federal holiday but a number of stores are closed in many parts of the US and if they are open, they may have limited trading hours. In some cities, public transit systems usually run their regular Sunday schedule, but it is best to check with the local transport authorities if any changes will be implemented during Easter Sunday.