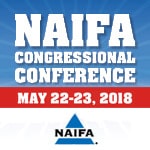 NAIFA's Congressional Conference is the industry's largest Day on the Hill and the perfect opportunity for agents and advisors to learn about the legislative issues that matter to people in our industry and how these issues impact our clients' financial well-being. NAIFA members will then take that knowledge to Capitol Hill to educate their Members of Congress on our key issues.
     The first 500 NAIFA member registrants will be eligible for a stipend of $300 to assist with their expenses if they meet the eligibility requirements, which include staying at an official NAIFA Congressional Conference hotel.
     The threats to our industry remain real.  NAIFA asks you to lead the way for your association's members to attend the 2018 Congressional Conference. Our goal is to ensure that laws and regulations enhance, not restrict, the ability of middle market families to have access to the products and services offered by NAIFA members. Please join me in May where together, we will make a difference!
For additional information about the Conference, view the FAQs.